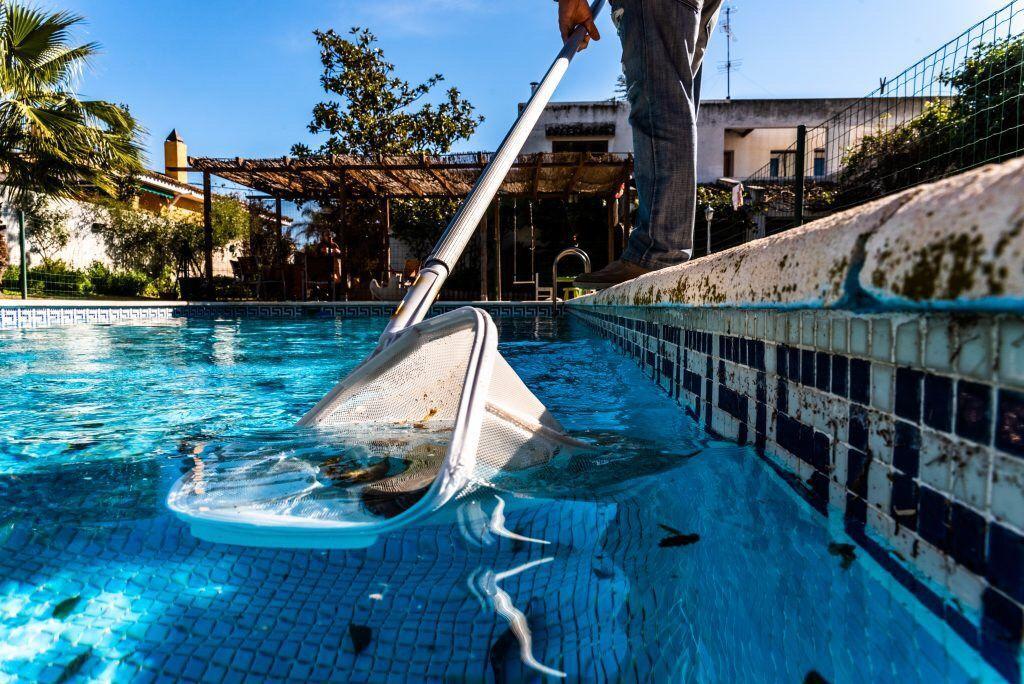 15 Mar

4 Reasons Your Need Swimming Pool Maintenance
Keep Your Pool Sparkling
Swimming pool maintenance is a great way to leave your pool sparkling. No one likes to have a dirty pool sitting in their backyard. When it comes to swimming pool maintenance, however, it's about more than just keeping your pool clean. It's about making sure your pool is also safe enough for you to use. Don't do this on your own. Leave the dirty work to a professional, experienced pool cleaning and maintenance company.
So what's the big deal about swimming pool maintenance?
Vacuum and Brush

The floor and walls of your pool can get a little dirty, especially when not cleaned properly. To begin, we always start by brushing the walls with a good scrubbing for your pool. If you're having difficulty removing algae or dirt from your walls, brushing them helps take care of it. The less gunk on your pool, the more it'll sparkle. Plus, this keeps you from having to use your own elbow grease to clean your pool. Next, in order to clean that gunk in the water and sitting on the floor of your pool, the best way is to vacuum it. This picks up any dirt and algae trapped at the bottom of your pool before it starts to clump together.

Check and Maintain Your PH Level

Your pool uses chemicals to keep the water clean enough for you to swim. If the levels start to drop or rise, this can be bad for you and your health. You don't want to get sick or leave your skin feeling weird. Checking the chemicals by yourself is also a difficult task. It's best to leave it to experts who can make sure your pool is just right. Especially when it comes to shocking your pool, it's always better to be safe than sorry.

Check and Maintain Your Water Level

Just like checking your chemicals, it's also important to check your water level. If you're continuously refilling your pool, a pool service company can work to find the problem. Sometimes it can be as serious as cracks in your pool surface, while other times its a leaky seal around a light. No matter where, that little leak can lead up to some pretty expensive water bills. Eventually, if the problem worsens, you'll have to pay to fix it. With the use of swimming pool maintenance, you can spot a small problem before it escalates to something big.

Check Your Pool Equipment

Pool equipment sometimes seems like it's doing its job, but it could be dealing with issues. Maybe it's not cleaning the way it used to, making funny noises, or simply not working at all. With the help of a pool maintenance team, you can help identify the problem with your pool equipment. Sometimes it can be as easy as replacing or repairing your equipment. Again, the most important thing is to identify the issue early to help save time and money in the long run. Don't rely on trial and error testing to assess the issues. Get a professional pool inspection done. Best of all, if you've hired a swimming pool maintenance company to take care of your pool, the inspection is complimentary. While they're cleaning the water and adjusting the chemicals you can trust that if they see or hear something out of the ordinary, they're sure to say something.
Contact Warren Pools Today for your Swimming Pool Maintenance
So, if you're in need of a cleaning, repair, inspection, or even all three, then contact Warren Pools. We have proudly been serving the needs of San Antonio since 1949 and love caring for our clients in the neighborhoods of Shavano Park, Hill Country Village, Hollywood Park, Alamo Heights, Castle Hills and beyond! Call us today at (210) 340-3529 to discuss your pool needs or request a free pool maintenance quote online. Let us help make your pool sparkle.